Center stage ad
If you want to purchase a center stage ad on this page for the coming 12 months, see notice at bottom of this page (click here). Your chance to purchase a month comes up at the Shropshire Classic May 10 & 11.
Shropshire Spectacular
See photos of the day here and photos of the top placings and sale order here.
May Shropshire Voice is in the mail!
Watch for it in your mailbox. If you are not a registered Shropshire breeder and would like to receive a copy of the Voice, you can subscribe to all three issues a year for only $15. Contact Becky Peterson at shropsec@hotmail.com.
Ohio Classic is National Sale
With the relocation of the Spectacular to Bloomington in April, it was best thought to designate the Ohio Classic as the National Sale this year. No changes to the date or location of the Classic are being made.
The event will still be a part of the Big Ohio weekend sale and take place at the Preble County Fairgrounds in Eaton, Ohio May 10 & 11. Banner Sale Management continues to make it happen. At this point Shropshires will show second in the day on Friday, May 10. Stacy Scramlin of Michigan has been contracted to judge. The National Shropshire Sale will be the second sale of the day on the 11. Further details and entry information can be found at www.bannersheepmagazine.com. View Classic sale catalog here.
SCROLL DOWN FOR MORE NEWS BELOW CENTERSTAGE BREEDER...
To have an ad featured on this home page, contact Becky Peterson at shropsec@hotmail.com for information on how to be a featured beeder of the month.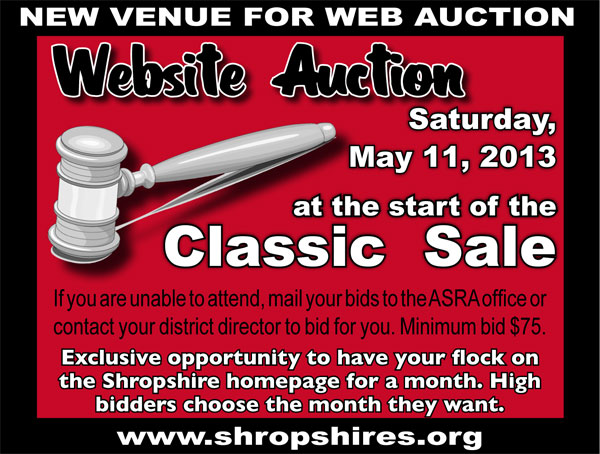 Deaths in the Industry
Anne B. Bates, 86, a lifelong resident of Delaware County, Penn. passed away peacefully on July 27, 2012. She was the wife of the late William H. Bates and daughter of late Mr. and Mrs. William S. Blakeley, Jr.
Read complete obituary here.
Annette A. Menhennett, 86, who owned a sheep farm in Chester County and was involved in charitable work in Africa, died Friday, November 30, 2012, at home. Read complete obituary here.

1954 Sheep Video
Cody Hiemke of Wisconsin shared this link of a 24 minute "SHEEP" video from 1954 that Texaco Oil Company put together. The Shropshire section starts at 11 minutes 30 seconds into the video. At 12:10 in the video an imported Shropshire ram is shown.
Cody reported that Bill Shultz thought the ram was either Sir Winston or Tern Cambridge, who his father, Farrell Shultz, imported back then. Based on photos of Tern Cambridge Cody also believes it was him.
"He was an impressive ram! Very cool to see a video of a sheep from back then!" said Cody.
Bill confirmed to Cody that the filming took place at their farm in Ohio. "Farrell must have herded the sheep into our front yard at Bunker Hill which still looks very much the same today," Bill said.